The fitness industry continues to thrive, with gym memberships and equipment sales reaching all-time highs. This creates a bustling secondary market for quality used gym equipment – offering tremendous value to buyers and sellers alike.
Our recent analysis of sales reports for five auctions Grafe Auction conducted reveals in-depth insights into the pre-owned gym equipment space. Let's explore the major trends, top-selling assets, and how auctions unlock full value in this market.
Top Trends in the Used Gym Equipment Marketplace
After reviewing auction data from over 20,000 lots of fitness gear, key trends emerged around the most in-demand assets:
Strength Training Dominates Demand
From squat racks to Olympic barbells, strength training equipment is wildly popular at auction. Full power cages, long Olympic bars, heavy bench presses, and hardcore dumbbells consistently notch top sale prices across the board.
Bidders are eagerly acquiring robust commercial-grade strength gear to outfit their gyms or home workouts. The market reflects this demand – 100lb+ dumbbell sets move quickly for $1000 to $1600 range. Complete bumper plate weight sets also trade hands at a premium.
This trend matches the broader fitness industry's embrace of strength training. As workout routines become more specialized, bidders seek specific gear to meet their goals. Used equipment provides affordable access to pro-quality kit.
Cardio Machines Keep Pace
Classic cardio options like treadmills and ellipticals remain in high demand. Late model Precor and Matrix machines sold for healthy $300 - $400 price points, despite being used. Though not equipped with the latest tech, these OEM (original equipment manufacturer) workhorses provide proven performance.
Rowing machines also moved well, trading between $700 - $750 in auction. As cardio equipment becomes more digitized, older models still hold appeal for their simple operation. When maintenance logs show care, used cardio gear brings strong value.
Multi-Station Gyms Multiply Opportunities
Cable-based multi-gyms enable diverse training capabilities in a single footprint. These versatile assets consistently notch top sale prices. A Matrix 8-stack unit moved for $7,000 – evidence buyers will pay up for commercial-grade stations.
Between their broad utility and hefty OEM price tags, multi-station gyms carry significant used value. Floor space is at a premium for most gyms, making consolidated cable units even more attractive. These turnkey systems leap to the top of bidding wars.
Accessories Equate To Big Opportunity
It's easy to overlook fitness accessories and smaller items. However, bulk lots of bands, foam rollers, slam balls, clips, and more find eager buyers. Though inexpensive individually, these components can be profitably resold or utilized for training. Their portability also appeals to at-home gym owners.
This diversified category saw rubber flooring sell in the $300 - $500 range for large coverage areas. Lesson learned: the right accessories can add up to real value.
Navigating the Complexities of Used Gym Equipment Valuation
If you're looking to sell used gym equipment, understanding fair market value involves several considerations:
Condition Counts Most
An item's condition drives pricing more than any other factor. Equipment in excellent shape with documented maintenance logs will fetch substantially higher sale prices versus poor condition models. Bidders will eagerly pay up for assets still close to commercial OEM grade.
Premium Brands Translate To Premium Pricing
Established brands like Precor, Rogue, Matrix, Cybex, and others command significant used value. Bidders gravitate towards commercial-grade equipment from leading manufacturers, even if used. Lesser-known brands trade at considerably lower price points.
Newer Models Trump Older Options
While still valuable, older equipment models ultimately go for less than newer iterations with up-to-date tech. However, classics maintain appeal for their plug-and-play simplicity compared to digitally enhanced offerings. Condition is still paramount in valuing older pieces.
Local Market Conditions Matter
Geography plays a role in pricing. If certain equipment is scarce locally, values may index higher as buyer competition increases. Conversely, some markets are awash in specific assets, depressing valuations. Understanding your regional conditions provides perspective.
The Used Market Adapts Over Time
Valuations fluctuate over the years as fitness trends change. While strength gear remains in perpetual high demand, niche categories go in and out of vogue. What's hot now may not sustain the same value forever. Consider long-term appeal when purchasing used equipment.
Top-Selling Used Gym Equipment Assets
Now let's spotlight top-selling used gym equipment across thousands of auction lots:
Rogue Monster Lite Multi Gym Power Rack – Sold for $850
Matrix 8-Stack Multi Cable Station – Hit $7,000 sale price
Precor Commercial Treadmills – Consistently sold in $300 - $400 range
Heavy Dumbbell Sets (100lbs+) – Routinely sold between $1000 - $1600
Hammer Strength Plate Loaded Machines – Leg press unit sold for $2,200
Assorted Bulk Lots of Bands, Balls, Mats – Surprisingly valuable niche
Rubber Gym Flooring – Large sections went for $300 - $500+
This list provides tangible examples of the most coveted used gym gear by asset category. But it merely skims the surface of broader market demand. There are gems to uncover across all equipment types, sizes, and price points.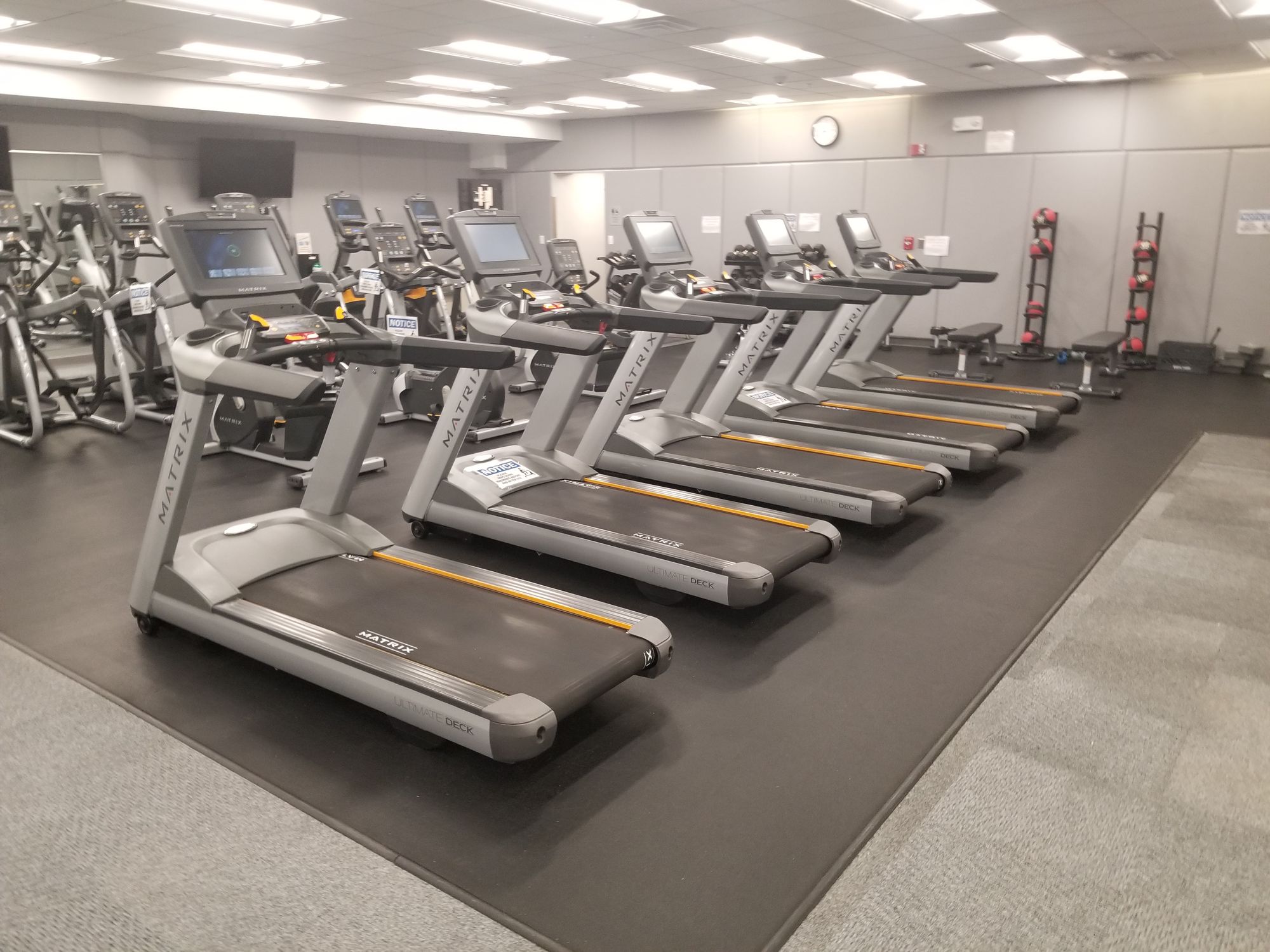 Unlocking Full Value Through Auctions
Selling used gym equipment through a live, online-bidding auction process allows sellers to maximize returns by accessing the broadest buyer pool. Meanwhile, buyers get fair shot to acquire desired gear through a transparent marketplace.
Robust pre-auction marketing and strategic auction management ensure high participation and competitive bidding energy. This directly translates to achieving full market value on deals. Auction data analysis provides pricing visibility to optimize returns.
As used fitness equipment experts, we stay on the pulse of this specialized marketplace from both the buy and sell side. Our auction platform efficiently connects buyers and sellers across geographic regions to exchange assets at fair prices.
Looking to Buy or Sell Used Gym Equipment?
Does your fitness business or gym have upcoming equipment needs, a facility transition, or surplus assets? Or are you seeking quality pre-owned gear for your training space? Our auction services can help on both fronts.
We flex our muscles so you can flex yours. Contact us today to discuss achieving your used gym equipment goals through our proven auction process!